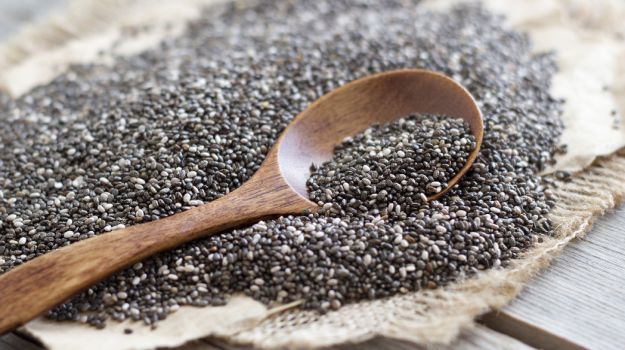 Chia Seeds
Salvia hispanica, commonly known as chia, is a species of flowering plant in the mint family, Lamiaceae, native to central and southern Mexico and Guatemala. Chia seeds were an important food for the Aztecs and Mayans back in the day. They prized them for their ability to provide sustainable energy… in fact, "chia" is the ancient Mayan word for "strength." Despite their ancient history as a dietary staple, only recently did chia seeds become recognized as a modern day superfood
In the past few years, they have exploded in popularity and are now consumed by health conscious people all over the world. Chia seeds are among the healthiest foods on the planet. They are loaded with nutrients that can have important benefits for your body and brain.
A 1 ounce (28 grams) serving of chia seeds contains:
Fiber: 11 grams.
Protein: 4 grams.
Fat: 9 grams (5 of which are Omega-3s).
Calcium: 18% of the RDA.
Manganese: 30% of the RDA.
Magnesium: 30% of the RDA.
Phosphorus: 27% of the RDA.
They also contain a decent amount of Zinc, Vitamin B3 (Niacin), Potassium, Vitamin B1 (Thiamine) and Vitamin B2.
This is particularly impressive when you consider that this is just a single ounce, which supplies only 137 calories and one gram of digestible carbohydrate!
Due to The High Fiber and Protein Content, Chia Seeds Should be Able to Help to Lose Weight
Many health experts believe that chia seeds can help with weight loss.
The fiber absorbs large amounts of water and expands in the stomach, which should increase fullness and slow the absorption of food.
There have been several studies on glucomannan, a fiber that works in a similar way, showing that it can lead to weight loss
Chia Seeds May Improve Certain Blood Markers, Which Should Lower The Risk of Heart Disease and Type 2 Diabetes
They Are High in Many Important Bone Nutrients
Chia seeds are high in several nutrients that are important for bone health.
This includes calcium, phosphorus, magnesium and protein.
The calcium content is particularly impressive… 18% of the RDA in a single ounce.
Gram for gram, this is higher than most dairy products.
Chia seeds may be considered an excellent source of calcium for people who don't eat dairy.
Chia Seeds Can Cause Major Improvements in Type 2 Diabetics
The most successful application of chia seeds to date was in a study on type 2 diabetic patients
In this study, 20 diabetic patients received either 37 grams of chia seeds, or 37 grams of wheat bran, for 12 weeks.
When they got the chia seeds, they saw improvements in several important health markers.
Blood pressure went down by 3-6 mm/Hg and an inflammatory marker called hs-CRPwent down by 40%. A risk factor called vWF also decreased by 21%.
Chia Seeds Can Improve Exercise Performance as Much as a Sports Drink
Legend has it that the Aztecs and Mayans used chia seeds to fuel performance back in the day.
chia seeds can help athletes "carb load" for endurance events, while increasing their intake of nutrients and decreasing their intake of sugar.